Auto and Truck Repair in
Bay Shore NY
Reliable Auto Repair In Bay Shore Long Island. Building Your Trust Since 1991.
Auto Repair in
Bay Shore NY
Reliable Auto Repair In Bay Shore Long Island. Building Your Trust Since 1991.
Top-trusted Bay Shore auto and truck repair, provides the high levels of quality and professionalism you would expect from an auto repair shop, and the friendly and personalized service you only get from a local family-owned business. Call us today and schedule a car repair for your vehicle. 
Why Choose TLC's Auto and Truck Repair in Bay Shore, NY?
Bay Shore Auto Repair Services
The brakes are highly sensitive parts of your vehicle. Make sure you can rely on them to stop your vehicle by maintaining and servicing them appropriately.
Trust our experts in Bay Shore, NY to deliver excellent brake repair services. For more severe issues, we can also replace the pads or the entire disk.
Driving a misaligned car or truck in Bay Shore, NY can significantly reduce your handling capability, causing you to struggle to drive in a straight line.
If you can tell your vehicle's alignment is off, then don't wait till it gets any worse. Let us check it out now.
Computer diagnostics is the best way to get the most accurate picture of any automobile issues you may have.
Our ASE-certified mechanics will run the right programs to determine your automobile's problems and go on to repair them.
Engine Repair & Replacement
There are several possible reasons why your engine could start acting up. Whatever the cause, engine repairs can be daunting for drivers.
Not to worry, at TLC's Auto and Truck Repair, we provide thorough engine diagnostic, maintenance, repair, and replacement services. You just have to stick to a regular maintenance schedule and seek expert help for any engine trouble you have.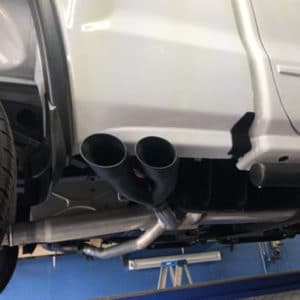 The exhaust system ensures effective vehicle performance and efficiency only when it is in good working conditions.
If not, let one of our ASE-certified technicians in Bay Shore, NY assess the situation and advise you on what to do.
Factory services have proven to be invaluable in maintaining your vehicle's performance and keeping it running.
Our automobile factory services in Bay Shore, NY are especially suited to your exact vehicle needs.
To ensure your comfort through reliable temperature control (irrespective of the season), let us service each component of your car's heating and air conditioning system.
It's a specialty of ours, and we recommend you do this before its results in a very uncomfortable ride for you.
To drive freely through the roads of Bay Shore, NY without warranting a ticket, you must have a valid NY Motor Vehicle Inspection Sticker.
We have authorized inspectors who can carry out this test and issue stickers in Bay Shore, NY.
Oil can only be optimal for so long before it needs to be changed. 3 months is a recommended timeline to follow.
Doing this will ensure you have good oil to properly lubricate several components of your engine, saving you from potentially expensive repairs in the future.
A lot of what goes on in your suspension system depends on your driving style. Regardless of your driving style, we've got the proper tools and techniques to identify and repair any suspension issues you may have.
Beyond repair and replacement, we also offer quick and thorough suspension inspections.
Your vehicle will go nowhere without a complete set of functional tires. Adequately maintaining your tires not only improves their lifespan but also ensures optimal vehicle maintenance.
Maximum mileage and reduced tread wear are direct results of proper tire maintenance from our auto mechanics in Bay Shore, NY.
Bay Shore -
hamlet in Suffolk County
This is one of the oldest hamlets on Long Island. The town has such a rich history permeating the very soil.
Late in the 19th century, it became a hub of economic activities, particularly those related to shopping and resorts.
Before that period – during the Revolutionary War – it served as a British Armed Forces Headquarters. Unfortunately, the town took a bit of a hit in the late 1970s.
However, things have steadily been going up since then. Renovations to the town have resulted in an upscale location with some magnificent architecture to behold.
Beyond that, there's so much one could do in Bay Shore such as visiting the Gardenia County Park, Bolton Center for the Performing Arts, Sastikos Manor, or even take a charter fishing trip.
Hamlet in the town of Islip, Suffolk County, New York
Zip code: 11706
Area code: 631
Population: 29,799 (2019)
Area: 5.5 mi2
Elevation: 16′
Honest & Reliable Auto Repairs
Don't compromise on safety for yourself or others on the road. Drop by our shop or give us a call.