Auto and Truck Repair in
Commack NY
Reliable Auto Repair In Commack Long Island. Building Your Trust Since 1991.
Auto Repair in
Commack NY
Reliable Auto Repair In Commack Long Island. Building Your Trust Since 1991.
Top-trusted Commack auto repair, provides the high levels of quality and professionalism you would expect from an auto repair shop, and the friendly and personalized service you only get from a local family-owned business. Call us today and schedule a car repair for your vehicle. 
Why Choose TLC's Auto and Truck Repair in Commack, New York?
Commack Auto Repair Services
The brakes of your car or truck do a lot of work and get worn out with time. A hallmark of this is when you find yourself pressing harder on them just to slow and stop your vehicle.
That would be a good time to bring your vehicle over to us for brake services.
A misaligned vehicle can develop steering and suspension issues with time. Watch out for signs of a misaligned vehicle such as pulling to the left or right while driving, or vibrations at higher speeds.
If you notice these, let us help you correctly align your vehicle and improve your ride.
Our ASE-certified technicians understand how to use diagnostic codes as an indicator to determine the actual auto repair problems you have and fix them appropriately.
Engine Repair & Replacement
We employ the best techniques and equipment to pinpoint the exact problem with your car's engine.
If it's an issue that can be repaired, we're happy to take care of it, otherwise, we'll carry out an engine replacement.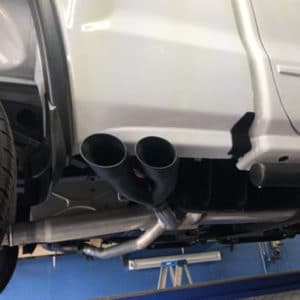 Whether or not your exhaust shows signs of damage or a leak, our mechanics in Commack, NY can figure out the issue.
We know what to look for and if there's a problem with your car's exhaust, we've got the right tools to fix it.
Sticking to regular factory scheduled maintenance services is key to ensuring optimal performance of your vehicle.
Whatever the brand of your vehicle and the kind of factory services required, our experts in Commack, NY are available to help.
More than just keeping the temperature in your car right, the heating and cooling system helps the rest of your car handle the load and cool the engine. Without this, the engine wouldn't function properly.
TLC's technicians in Commack, NY are skilled at all things heating and AC systems.
Just like other places in New York, Commack drivers must have valid Motor Vehicle Inspection Stickers that can only be gotten by successfully passing the NY State Inspection and Emissions Test. Our auto repair shop is an official inspection station with licensed inspectors.
There's a lot involved in an oil change. Our auto mechanics have a vast knowledge of the different oils available and which is best suited for your vehicle.
We recommend that you come in for this service every 3 months or 3,000 miles for your car or truck's peak performance in Commack, NY.
If your car or truck's suspension system has an issue – be it some extra free play in the steering or a more serious issue that affects the control of your vehicle, then it's time to schedule a suspension repair.
Our technicians will test the system and determine the best way to return it to top-notch steering and handling conditions.
To ensure a smooth, safe, and comfortable ride in Commack, NY in addition to getting the most miles out of your tires, bring your vehicle in for our tire services.
These services include a complete tire rotation, repair, and replacement – whichever you need.

Transmission repair is a rather time-consuming automobile repair. However, frequent inspection of your transmission system for defects will save you all that trouble.
At TLC, we can handle all the transmission system needs of drivers in Commack, NY.
Commack -
hamlet in Suffolk County
Commack is a place of beauty and nature. The rich soil and forestry, with its vast collection of plants and wildlife, fully support this.
Perhaps this explains why a section of the northern lands in the island is named Winnecomac – 'Pleasant Land'.
Also, it's a great place with people of all ethnicities present. It has opened up in recent times.
In 2006, the Commack Motor Inn was regarded as one of the 7 wonders of Long Island by the WBLI Radio Station.
Beyond that, there's no shortage of attractions in Commack, NY. A few worthy mentions include the Commack Park, Mysterious Forest of Commack Road, Hoyt Farm, and the AMF Commack Vet Lanes (for the bowling enthusiast).
Hamlet in Suffolk County, New York
Zip code: 11725
Area code: 631
Population: 36,953 (2019)
Area: 12.0 mi2
Elevation: 131′
Honest & Reliable Auto Repairs
Don't compromise on safety for yourself or others on the road. Drop by our shop or give us a call.