Auto Repair in
Hempstead NY
Reliable Auto Repair In Hempstead Long Island. Building Your Trust Since 1991.
Auto Repair in
Hempstead NY
Reliable Auto Repair In Hempstead Long Island. Building Your Trust Since 1991.
Top-trusted Hempstead auto repair, provides the high levels of quality and professionalism you would expect from an auto repair shop, and the friendly and personalized service you only get from a local family-owned business. Call us today and schedule a car repair for your vehicle. 
Why Choose TLC's Auto and Truck Repair in Hempstead, New York?
Hempstead Auto Repair Services
The brake system of your vehicle must be fully functional at all times for your safety and that of other drivers.
While some come with in-built brake pad sensors that tell you when there's an issue, others show physical signs.
Regardless, experts recommend you change them every 50,000 miles. Our experts in Hempstead, NY can help you with your brake system.
An optimally aligned vehicle runs safely and efficiently, has better gas mileage, and suffers less tire wear on the roads of Hempstead, NY.
Failure to properly align your wheels could result in potential steering and suspension issues. Let us offer you our complete wheel alignment services.
A check engine light coming on can be a rather vague indication of automobile issues. Computer diagnostics is the best way to figure out the specific issue.
Our ASE-certified experts can run these tests and determine what the best repair will be.
Engine Repair & Replacement
From rough idling to knocking and pinging, engine trouble can be quite frustrating and can even put your vehicle out of commission.
Regular engine maintenance will help prevent this. For engine diagnostics, tune-up, repairs, and replacements in Hempstead, NY, come on over to our auto repair shop.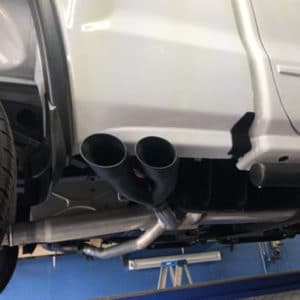 The exhaust system must be in top-notch conditions to collect and direct harmful emissions away from your vehicle and also minimize engine noise.
A repair service may be necessary when the opposite is the case. We can handle all the exhaust system repair needs of drivers in Hempstead, NY.
Expect reliable, make-specific factory services in Hempstead, NY. For better results, we'll stick to the manufacturer's recommended treatment for your exact vehicle.
The heating and AC systems of your vehicle do more than keep it warm and cool. The cooling system reduces the engine temperature to prevent overheating. On the other hand, a failing heater is a clear path to a freezing and generally unpleasant ride.
Our technicians are skilled in this aspect of auto repair.
To get the coveted inspection sticker on your vehicle and avoid issues with law enforcement in Hempstead, NY, your vehicle must be in good working conditions.
We not only have licensed inspectors but also we can help make sure your vehicle is fixed and serviced appropriately.
Preventable maintenance services that ensure optimum vehicle performance doesn't get better than regular oil changes. A 3-month interval should suffice.
Our mechanics will also inspect the oil filter and use only the best oil during your scheduled oil changes.
The suspension system of a vehicle has several components that could get rather confusing. But not for us. Our mechanics are trained to thoroughly inspect the system and determine whether you need a repair or total replacement.
Whichever is required will be performed correctly to maintain a comfortable ride for you.
Proper tire maintenance improves tire lifespan and also ensures optimal vehicle performance. Come in for this in addition to other tire services such as tire purchase and installation, tire rotation, tire repair, and tire replacement.
A faulty transmission system is not good news for your vehicle. Expect issues with the gears, clutch, and several other components.
Regular transmission maintenance is necessary to keep the system functioning. We can help you with any transmission service your vehicle requires.
Hempstead -
Town in Long Island
Hempstead is one of the three Nassau County towns in New York. You will find this town in the Western half of Long Island.
The town boasts of numerous villages and hamlets – 22 and 37 respectively – to be precise. There are also a few unincorporated areas.
All these combine to make Hempstead a great tourist location.
A huge part of this is the Jones Beach State Park located in Hempstead. This location gets about 6 million yearly visits.
Beyond that, there's a lot more you could do in Hempstead, such as a trip to Bradley Park, Kennedy Memorial Park, or Campbell Park.
The city has got its fair share of history. From Brooklyn Children's Museum to Hofstra museum and Rock Hall Museum, a history buff can rest assured of getting their fill of history here.
The sportsperson is not left out either. The Bay Park Golf Course provides an excellent destination for golfers.
Town in Long Island, New York
Zip code: 11549, 11551, 11550
Area code: 516
Population: 768,103 (2018)
Area: 191.77 square miles (Land – 118.68 square miles, Water – 73.08 square miles)
Honest & Reliable Auto Repairs
Don't compromise on safety for yourself or others on the road. Drop by our shop or give us a call.