Auto and Truck Repair in
Queens NY
Reliable Auto Repair In Queens Long Island. Building Your Trust Since 1991.
Auto and Truck Repair in
Queens NY
Reliable Auto Repair In Queens Long Island. Building Your Trust Since 1991.
Top-trusted Queens auto repair, provides the high levels of quality and professionalism you would expect from an auto repair shop, and the friendly and personalized service you only get from a local family-owned business. Call us today and schedule a car repair for your vehicle. 
Why Choose TLC's Auto and Truck Repair in Queens, NY
Queens' Auto Repair Services
At some point during the life of your vehicle, you will have to replace the brake pad and rotor. Your driving style determines when/how often you do this.
Let our experts in Queens, NY help you with all things brakes, from repairs and routine maintenance to replacement.

Your vehicle must have the right set of wheels. Proper alignment of these wheels determine the vehicle's ride quality.
Our vehicle alignment services will assure you of a smooth ride in Queens, NY.
We've got ASE-certified technicians with an in-depth understanding of modern automobiles. Thanks to that knowledge and computer diagnostics, we can figure out and solve all your car issues, from control system or electrical system malfunctions to display and timing issues
Engine Repair & Replacement
All forms of engine repair can be handled by experienced technicians. The same goes for replacement.
That experience has taught us areas of your vehicle where adequate maintenance will ensure your engine continues to run optimally. This knowledge will save you thousands of dollars in the long run.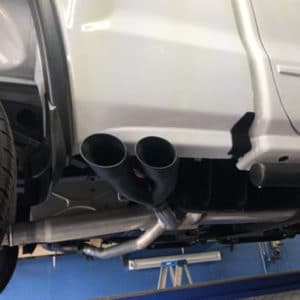 The exhaust system is a collection of parts that are invaluable in maximizing vehicle performance. Issues here can affect you greatly on the road of Queens, NY. Fortunately, our experts are well-versed in this aspect of auto repair.
Factory services will efficiently prevent the unnecessary breakdown of your vehicle. This works better when it's tailored to your car brand. At TLC, we're adept at all kinds of vehicle repairs.
Let's help you make sure your car can keep you and the engine cool or warm in summer and winter respectively.
Bring it down to TLC for adequate servicing of your car or truck's heating and air conditioning systems.
You must keep your vehicle in a manner worthy of Queens' roads. To do this, it must pass the New York Motor Vehicle Inspections. Our auto and truck repair shop has got licensed inspectors for this.
Regular oil changes are compulsory aspects of the vehicle's auto maintenance. To ensure your vehicle runs smoothly and your engine is in optimal condition, go for an oil change every 3 months.
To steer and handle your vehicle comfortably, make sure your suspension system is in top-notch working condition. Our auto repair experts can help you figure out whether an issue here calls for a repair or replacement.
Repair, replacement, or maintenance – these are all necessary to keep your tires working. Our technicians can thoroughly service your tires to promote tire tread life and even fuel economy.
Regardless of the type of vehicle you have, the transmission system plays an important role in its smooth running. Several issues can impact its performance. Let us take a look at it, figure out the issue, and fix it up in no time.
Queens -
Village in Long Island
Queens is one of the five boroughs of New York City. It is the second-largest borough, after Brooklyn.
Queens is an ethnically diverse urban area – the most diverse borough in the city. The infrastructure and history make it such an amazing place. Here's a fun automobile fact – the first road ever made just for cars was paved in Queens' back in 1908.
It is home to Forest Hills Stadium – a massive venue for shows and such.
There's a lot more to do here. You could take cultural or historical tours or explore the many parks or beaches here such as Flushing Meadow Corona Park and Rockaway Beach.
Second Largest Borough in New York
Elevation: 260′
Zip code: 110__, 111__, 113__, 114__, 116__.
Area code: 718/347/928 and 917.
Population: 2,287,388 (2010)
Area: 178 square miles (Land 109 square miles, Water 70 square miles [39%]).
Honest & Reliable Auto Repairs
Don't compromise on safety for yourself or others on the road. Drop by our shop or give us a call.