Do you have a hard time making out the road in front of you while you're driving? Perhaps your windshield is dirty – not just on the outside but also on the inside.
If you've noticed a greasy tint on your windshield, then you should know that it's time to give it a thorough cleaning. This will get rid of all the dirt and grime that's accumulated on it.
Having a clean windshield is crucial to ensuring that you drive safely as it improves the visibility of the road ahead of you.
Fortunately, cleaning the interior of your windshield is easy as there is a wide variety of products and foolproof techniques to use.
These will not only make the whole cleaning process easier but also leave the windshield spotless and streak-free.
It's easier to wash your windshield from the outside than it is from the inside. But it's certainly not impossible.
Guidelines for Properly Cleaning the Inside of Your Windshield
Step 1 - Gather the Materials Needed
Start by choosing the best products for cleaning the interior of your windshield.
When cleaning the windshield of your car, you must be cautious about the products you use and be sure to get a safe and effective product.
There are specific products out there that have been specially formulated for car glass. Even if you won't use "windshield-specific" products, at least, avoid using the dangerous products.
For instance, if your windshield is tinted, avoid glass cleaners and other products that contain ammonia.
Ammonia is bad here for several reasons:
It can release toxic fumes.
It often leaves streaks on the glass.
Ammonia is rather harsh and could dry out certain materials such as plastic or rubber – the windshield's frame perhaps.
You're better off avoiding ammonia in windshield cleaner entirely.
Only use products that have been made specifically for tinted windows. You could also opt for a homemade version, made with dishwashing liquid and a few drops of vinegar.
Avoid using a paper towel or fabric that is too abrasive for cleaning the windshield as they can leave scratches on the glass.
Instead, go for a microfiber cloth. These are very absorbent and clean glass without leaving any scratches or watermarks.
Step 2 - Wipe Down the Windshield
Once you've gathered your towels and cleaning solution, hop into the front seat of your car on either side for easier access to the interior windshield glass.
Place some towels on the dashboard to prevent drops of cleaning product from getting on it. Go in with your microfiber towel after spraying it with the glass cleaner of your choosing.
Start wiping from the upper right corner of the passenger's side and move onto the driver's side when you're done.
Scrub from top to bottom until every surface of the windshield is clean. Then, use a dry towel to wipe the surface dry so you don't leave any cleaning product behind.
Step 3 - Pay Attention to the Corners and Edges of the Windshield
While you wipe the entire expanse of your windshield, try not to overlook those hard-to-reach crevices of the glass.
Spray the corners and edges of the windshield generously with the cleaning solution and proceed to scrub with the microfiber cloth.
You'll notice that these areas have more dirt than the rest of the windshield as this is where most dirt and grime accumulate and go unnoticed for a while, so, it might require a bit more elbow grease to effectively clean it.
Step 4 - Watch Out for Stains
If you smoke or allow others to smoke in your car, then you must be familiar with the yellowish film that cigarette smoke forms on your windshield glass.
That's nicotine stain. Be on the lookout for that.
Making sure to wipe away all the nicotine stains deposited on the windshield is crucial to safe driving.
This is especially important if you drive at night because the nicotine film can blur your line of sight, as well as the light from other vehicles.
For this step, you might want to go in with a regular commercial window cleaner, preferably the one that comes in a spray bottle as they get the job done more effectively.
Spray the cleaner on your windshield in sections and allow it to sit for two minutes, then scrub with a soft bristle brush.
Finally, wipe off the cleaner with a microfiber cloth soaked in hot water and dry the area with another cloth.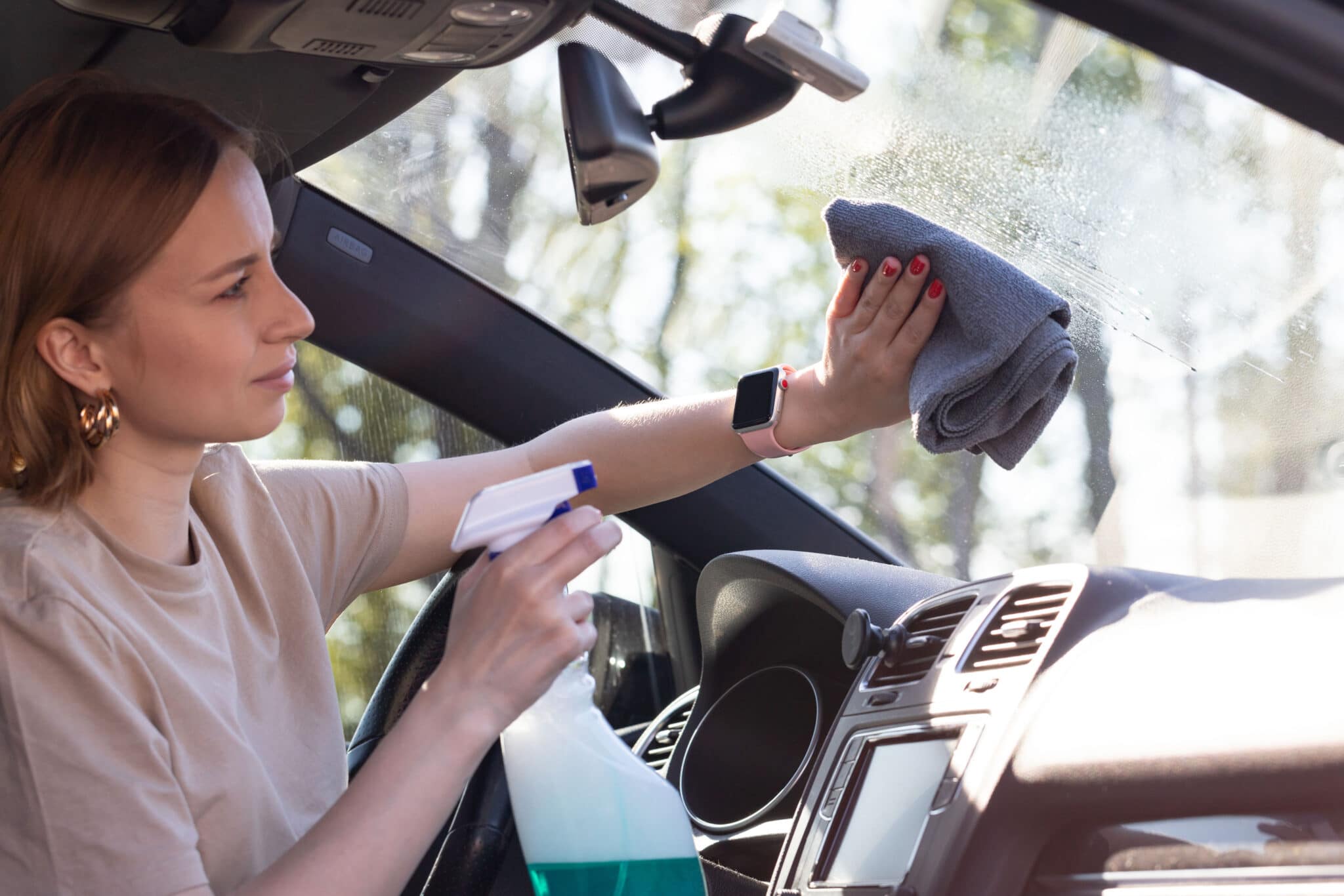 Tips for Cleaning the Interior Glass Windshield for the Best Results
✔ The interior windshield should be the last thing you clean when washing your car. This should come after you've washed the outer part of your vehicle and cleaned the exterior windshield glass.
✔ You're better off wiping your windshield when the temperature is low as the cool temperature ensures that the glass cleaner does not evaporate rapidly.
✔ Avoid using towels and rags used for cleaning other parts of the car, as well as those used for general cleaning purposes around the house, even if they've been washed. They could make your windshield greasy or even scratch the glass.
✔ Put on safety goggles and gloves when spraying your glass cleaners to ensure that none of it gets in your eyes or lands on your skin. The chemicals used in making these products can irritate your skin and eyes.
✔ You can use a mixture of vinegar and water as an alternative to glass cleaner. Vinegar is an effective cleaning liquid as it dissolves dirt and oily residue with the bonus of being ammonia-free.
✔ Use rubbing alcohol to degrease the windshield glass.
✔ Be patient and work slow, wiping in a circular motion to ensure that no smears or smudges are left behind on the windshield.
How to Ensure That the Windshield Stays Clean for a Long Time
Now that your windshield is clean and spotless, you have to find ways to keep it that way for the longest time possible or you'll find yourself repeating the entire process all over again by the end of the week.
We've got a few tips for that:

✔ Try leaving a small crack in your window instead of rolling the glass up completely. That way, you let in a little fresh air in and prevent the build-up of contaminants in the car
✔ Avoid smoking in the car or let the windows down when you do.
Maintenance Tips for the Windshield
Keeping your windshield clean and spotless is great and all, but it doesn't end there. A cracked windshield can be very distracting to a driver.
It's especially bad if it sits directly in their line of sight, thereby, distorting their view of the road.
A driver needs maximum visibility, and the best way to get this is to ensure their windshield is in perfect condition.
1. Check Periodically for Cracks on the Windshield Glass
Always check for cracks on your windscreen. Once you notice a crack, get it fixed immediately, no matter how small it may be. These tiny cracks can develop into bigger ones.
Besides, a tiny crack could cause you to fail a vehicle inspection in states such as New York.
That said, take your vehicle to an auto repair expert so they can get this checked out and fixed.
2. Clean Both the Interior and Exterior of the Windshield
A lot of car owners prioritize having a clean exterior windshield to having a clean interior one. This makes them clean the outside and overlook the inside. Make it a habit to clean both the inside and outside whenever you go to clean your car.
Anything that reduces your ability to see clearly while driving is a safety hazard, especially when it has to do with the windshield. Keeping this part of your car clean allows you to see the road ahead of you better.
You might find it a bit difficult to clean the inside of your windshield, especially in tight corners, but by following the steps listed above you should be able to do so quickly, efficiently, and without stress.